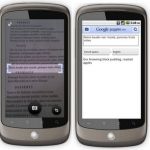 Google Goggles has been a novelty application on Android, mostly to show off to people what it can do and experiment with the search results that it comes up with.  The recent update has finally made Goggles useful: being able to translate text that is captured on camera.  Right now, Goggles translates between English, French, Italian, German and Spanish using the same resources as Google Translate (also available on the Android market).  They are also working on more languages, so maybe one day we can read the menus at Korean restaurants finally?
Before this added feature, Goggles was able to recognize barcodes, DVD/book covers, artwork, monuments and more.  Currently, Goggles is exclusive to the Android platform but was announced to be available to other mobile OS's in the near future.
No related posts.
Related posts brought to you by Yet Another Related Posts Plugin.